Tuesday, March 17th, 2009
---
10:21 pm
- YEAH!!
I got the new job!!! I'm SOOOOOOOOOOOOOO freaking excited!!! I start on a part time basis on Tuesday (to ease out of my current job)... This is going to be HUGE for our family. I'm so stoked!
Wednesday, February 18th, 2009
---
10:18 am
Vader knows how to sit on command, shake, and is house broken... pretty good for a 5 month old puppy on his first day in a new house!!! Eric and I were both very afraid of how much little sleep we'd get last night, but we didn't even crate him. Vader slept on the floor next to our bed all night. He follows Gwen around like, well like a puppy, and they both seem to really like each other. I'll knock on some wood but I think my fears about getting a dog were unfounded.
Sunday, February 15th, 2009
---
10:23 am
We adopted a black chow/shepard mix puppy yesterday... according to the SPCA his name is Star Wars... I didn't want to keep that as his name, so we're naming him Vader instead. He's being neutered on Monday, and we'll be picking him up on Tuesday. So we got a mini-van and puppy all in one weekend. Kinda nuts around here.
Friday, February 13th, 2009
---
6:27 pm
We are now the proud owners of a completely decked out minivan. :) Dvd system, navigation system, power EVERYTHING, I'm so excited!!! The best part, we're saving $70 a month!!! Sure that $70 will be going into our gas tank I know I know, but I'm so excited!
9:53 am
- Puppies, puppies everywhere...
So just this past weekend Eric asked me what I thought about getting a puppy after our cruise in August. I had a pms induced breakdown and told him I wasn't up for dealing with a puppy and two kids still in diapers, but after my hormones calmed themselves I told him I thought it would be a good idea. Well, this morning I received an email from one of my mothers employees. This email stated that 5 black lab mixed puppies were found in the middle of the road and need homes ASAP. I figured it was fate that within just days of Eric asking me about a puppy, that five of them are up for what I believe is FREE adoption. So I emailed her back telling her we'd love to come look at them. So, we may be getting a puppy within the next day or two!!!

Here's the picture we got in the email:



If anyone knows of anyone that would be interested in saving one of these puppies please let me know! They will be taken to a shelter soon, and then will only have 5 days before they are put down due to lack of room. Help them out!!!

Oh, btw, Gwen peed in the potty today! But then pooped in her diaper... I don't know how to get her to understand, but I guess little steps right?
Monday, February 2nd, 2009
---
4:55 pm
- Bathroom update
I'm so excited, I'm re-painting the bathroom. I have a 'thing' against white walls, I basically hate them... So about a year and a half ago, I painted the bathroom white because I really didn't know what else I wanted to do with it, and white went with the shower curtain Eric picked out. But I've finally decided what I want to do with it!!! I picked out a nice brown to paint the trim, doors, and vanity. Then I got a really pretty almost baby blue/teal color for the walls. I'm gonna be painting the walls in my flat & glossy stripes that I've been wanting to do in some room in the house, with a brown shower curtain, and window curtains, and a white cabinet behind the toilet I think it'll look sharp. After I'm done painting I'm going to rip up the tiles on the floor since I believe they are from 1972 and put new tiles down. Then when Eric's ready we'll get a WHITE toilet since ours is grey, a new countertop (white) and tub surround. For a few hundred bucks I think'll it will make the bathroom look a whole lot better!!! I'm pysched! However, with the kids, and my working evenings it's going to take me a LONG time to get it all done... But I've already gotten the vanity painted, and a partial coat on the window trim, so I'm hoping to knock out the 'trim' work this evening once we get home from my cousins birthday party. I'll post pictures once its done (the painting for now- since I dont know when i'll get the floor done).
Tuesday, January 27th, 2009
---
9:25 am
The kids and I are all sick. Liam's cutting his first tooth, FINALLY. His eczema looks so much better than it did last week, I'm grateful. My eyes are watering because my nose is so plugged up, so Gwen keeps thinking I'm crying and she's crawling all over me asking me if I'm ok. I hate winter. We have 205 days until our cruise, and I'm SO excited. I have to go get new passport photos taken so I can send my passport in to get my name changed on that. It's ridiculous, they charge you $90 for a brand new passport, and $75 to just change your name on an existing passport. I'm just hoping its good for another ten years. But alas, I need it if I want to go on the cruise, which I do, desperately.
Friday, January 2nd, 2009
---
7:15 pm
I took advantage of Eric being home today with the kids and after 538 days of being married, I finally got my name legally changed. As well as living in our house for 2+ years, I changed my address with the DMV... I'm such a slacker, but boy oh boy do I feel accomplished.
Sunday, December 21st, 2008
---
9:06 pm
- Santa
The kids saw Santa Clause today... Don't mind Liam's lack of socks and shoes - the parking lot going into the mall was awful with snow and wind and he lost one of his socks... But before we left the mall we got him some more socks and some boots. But here are the kiddos and Santa!!!

Saturday, December 20th, 2008
---
1:48 pm
- Snow Storm!!!
Since we got buried in snow yesterday, what better opportunity to bust out Guinevere's new snow pants and see what kind of Western New York lady she is! So here is a picture post of her:
Here she is all dressed up and ready to go outside!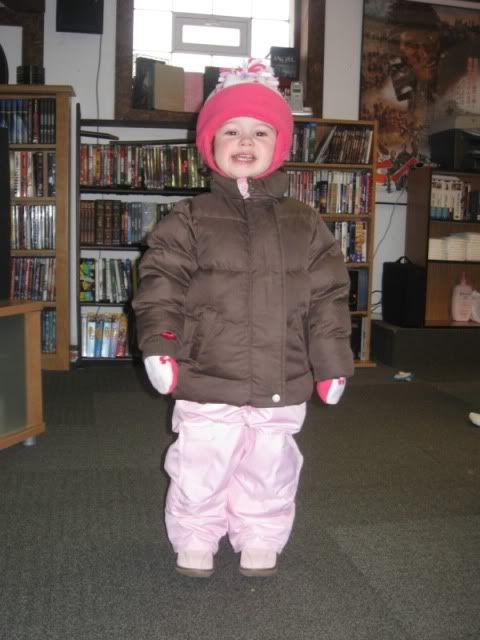 (
Read more...
Collapse
)
Wednesday, December 10th, 2008
---
1:07 pm
Monday, December 1st, 2008
---
8:00 pm
- Toczek Family Fun Day!!!
This past Saturday, Eric and I planned a family fun day with the kids. Instead of just sitting home in the winter months and holding up inside the house we wanted to get them out and enjoying western new york. So, we woke up early and headed out to the Niagara Falls Aquarium. We saw the penguins getting fed, then a whole bunch of fish, some turtles, and then the sea lion show. Gwen really wasn't interested in anything until the sea lion show, then she was SO excited. She was laughing and pointing and saying, "MOM blah blah blah" the only thing I could really understand was "Mom" the rest was just her normal gibberish. After we left the aquarium, we went to lunch at Red Robin. Liam sat in a high chair for his second time at a restaurant, and he and Gwen sat across from each other. Throughout lunch Gwen spoke in her half english half Gweneise to Liam at the table. It was hysterical. We then came home, I went shopping for a little while, then we went back out. We headed out to the Hamburg Festival of Lights. It was about a half hour drive, and both the kids passed out. When we finally got there, we did EVERYTHING we could to wake Gwen up but she just wasn't having it. So she slept through the whole light festival. We parked and walked around the grounds. They had a reindeer display with live reindeer, Gwen hated them, and Liam sneezed at them. Then Gwen went on the carousel with Eric, Liam and I watched. We got in line to see Santa, but it was out the door, so we're going to see him at the mall. Then Eric and Gwen went on a Reindeer sleigh ride. She apparently had a blast. Liam and I went and found some warmth while they were doing that so I didn't really see her face. All in all it was a great day, and I'm so happy that we did it. I'm actually planning our next family fun day for a weekend in January when the weather isn't bad and we don't have any plans. We're going to head out to the Strong Museum in Rochester. From the website it looks awesome, so I'm very excited.

Other than that, everyone is doing well here. I got a promotion at work, I'm now a manager. Eric is still kicking butt at work. Gwen is, well Gwen. Liam is now sitting on his own, and on solid foods. Besides the fact that the kids are still up multiple times an evening and we're losing more and more sleep, everything is great around here. I decorated for Christmas a few weekends ago, and Gwen loves the tree... she loves to touch the tree, so we need to break her of that. Eric and I are looking forward to this Christmas and seeing how much fun the kids are going to be. I bought them matching Christmas pj's and they are hysterical... you'll just have to wait for the pictures of Christmas morning for those though. But that's about it. Hope everyone is doing well!
Tuesday, November 4th, 2008
---
9:29 am
- Happy Belated Halloween!
Wednesday, October 22nd, 2008
---
12:38 pm
I love being able to help people. However, after the fact, if I get called at work, then on my cell phone, then at my home to ask me something you could easily find on either the internet or in a store I get easily frustrated. Lesson learned.
Wednesday, October 8th, 2008
---
6:57 am
- Picture Update
Hey All,
I figured since it's been awhile I'd do a picture update of the kiddos... Liam slept through the night last night (first time, besides the day that he got his shots- which means it doesn't count)!!! Let's hope it a routine thing! But alas, here are the kids! Behind the cut that is...



(

Read more...Collapse

)
Saturday, August 2nd, 2008
---
8:36 pm
To help with the feeling that we've out-grown our current house (since we'll be staying here for a couple years) Eric and I have 'purged' a lot of junk from our back room in the basement. So much so, that I have put three shelving units along one wall, and put a kid friendly carpet down, and now Gwen and Liam have their very own play room. We've condensed ourselves down to one desktop computer which allowed us to get rid of one computer desk, and we threw out a bunch of stuff left from the previous owners that we just kept making excuses to keep around (bar stools/entertainment center). So not only were we able to take all the kids toys from the family room and put them into their own play area, we were able to open up more floor space for them to play, while keeping the 'guest bedroom' cozy and welcoming. I'm really excited about this, since Eric is a pack-rat it's really hard for him to part with almost anything that has sentimental value... but with a little nudge he did great. I also began painting the back hallway that I semi-painted last year. The bottom half of the hallway is a paneling that was painted white, and I almost finished painting the top half a deep red color a year ago... So today, I began painting the white paneling a deep brown color, and plan on painting the top half a sage green color. I'm not to fond of the red anymore (so I guess it's good I never finished painting it). But I'm excited we're finally taking steps to make the back/bottom portion of our house part of our home!!!
Friday, August 1st, 2008
---
6:26 am
- Yay!!
Since I need to have something rather large to look forward to in my future (house, baby, wedding, baby) or else I go nuts with the mundane-ness of staying home and cleaning poopy diapers all the time, Eric has suggested we go on a cruise next August!!! Mom and Dad Toczek are going to watch the kids for us, which will be amazing to have 9 nights together while cruising around the caribbean. Our ports of call are going to be: Cape Liberty Cruise Port, New Jersey; Kings Wharf, Bermuda; Philipsburg, St. Maarten; Charlotte Amalie, St. Thomas; San Juan, Puerto Rico!!! I'm so excited about this I told Eric I wanted to start packing already!!! If anyone else is interested in it, it is the 9 Night Bermuda And Caribbean Cruise with Royal Caribbean leaving August 20th, 2009 on the Explorer of the Seas. Yay!!!
Monday, July 28th, 2008
---
10:52 am
- New house update:
Ok, so Eric and I talked everything over again... and we've decided to stay where we are right now, pay off some of our debt and put ourselves in a very comfortable financial situation before jumping into the purchase of a new home. This way, we won't have to settle for an extreme fixer-upper that isn't really our dream home just for a bigger house... we're both relieved with this decision. :)
Saturday, July 26th, 2008
---
10:10 am
The other night I drove out to my Aunt Michele and Uncle Rick's house in Wilson, NY to pick up a tent for my friend Jen's daughters first birthday party. While I was out there I was talking to my aunt and uncle about the three acres next door to their house that Eric and I wanted to eventually buy to build our dream house. They told me that they are going to be buying the land from my aunt's father, however his house (which is two houses down the street from theirs) will be going up for sale in the near future. The house sits on 7 acres of property, is a 4 bedroom, 1.5 baths, around 2400 square feet, with an attached rental apartment. I'd been in the house when I was much younger but asked if they would mind showing me around the place. I fell in love with the house and the yard. They are currently working on emptying the 50+ years of stuff that my aunts parents had accumulated inside, so it's pretty cramped and messy. The interior definitely needs some TLC (paint, new carpeting, new tiles, etc etc). But after leaving and coming home I mentioned it to Eric. So, last night Eric and I drove back out there so he could look at it. He liked the house, the what sealed the deal for him was the backyard. It's just beautiful, huge trees, lots of green grass, grape vines, room for the kids to play on a very non-busy street. So, needless to say, wish us luck that we get approved for a much larger mortgage than we have now, and that our offer gets accepted - so we can move!!! Here's a picture of the front of the house, and a HUGE willow tree in the backyard.




Here's a link to the 50+ other pictures I took of the house as well...
http://guineveretoczek.com/gallery/v/album_003/
Tuesday, July 22nd, 2008
---
8:29 am
- Per Jo's request: A Toczek Family Update
Well, Eric started his new job at Delta Square about a month ago. It's been very nice, since he's been working from home mostly and no longer has any on-call or weekend work. However, the company did lease the three Buffalo area workers an office space, so he won't be home working as much, but he'll be closer to home anyway.

Gwen, will be two in August. Where has the time gone?!?! She is starting to say more and more words, which is fantastic because I was really starting to get frustrated with her and her grunting. She is madly in love with her little brother and is a massive help with him. She calls him "bro". She's still going to Gymboree on Saturday mornings and is thriving in the social atmosphere there.

Liam, is a fussy baby and eats constantly, so he's lucky he's cute. He turned two months yesterday, and got his first round of shots. He slept most of the day afterwards (between meals that is). He's up to 12lbs and 5oz now, so he's starting to really chunk up. He's not yet sleeping through the night, but I blame that on the fact that we can't give him cereal yet to satisfy his never-ending hunger.

As for me, I healed nicely after the c-section and have just been taking care of the kids. I got my hair permed on Saturday as to not have to constantly have it in a ponytail. I'm getting used to it, but Eric really likes it. While I was getting my hair done, the owner of the salon mentioned that they are looking to hire a receptionist. So I had a 2.5 hour interview while the perm was setting and I start on August 22nd. It's only part time (T,W,R) from 4-8:30pm but it means we don't have to put the kids in daycare and we can have a little extra money to play around with.

We're in the process of getting our house painted. Back in March when we signed the contract the painter quoted us a 4 day job with scraping, priming, and painting both the house and garage. We are currently on the third week of the job, and it looks as though they have about another week of work before its completed. I wouldn't mind the fact that its taking them so long to do the work if they didn't leave all their crap in the backyard, making it impossible for us to take Gwen outside to play safely. But it'll all be done hopefully soon enough.

Behind the cut are some pictures of the kids and of the house in progress - Enjoy!!!



(

Read more...Collapse

)